Copper is an important raw material used in construction, electric vehicles and other electronic equipment. In addition, its price has been rising for some time. Many investors are therefore wondering how to invest in copper. In this article, we present the topic of the current demand for and supply of copper.
We also show how to invest in this metal. Finally, we present 3 companies whose shares are an interesting option for investing in copper.
What is copper?
Copper is a semi-precious metal with a reddish tinge. People have been using copper since antiquity. For example, according to archaeologists, the first copper tubes were used in ancient Egypt around 2750 BC.
Copper, like gold and silver, is an excellent conductor of heat and electricity. Copper is also corrosion-resistant and mixes easily with other metals. It is widely used in construction. It can also be easily recycled. It is estimated that around 70% of the copper used today has been recycled at least once.
The use of copper
Copper is mainly used in building structures and pipes. It is also widely used in power generators and electrical engineering devices. We can find it in radio receivers and TV sets. A cell phone contains about 15 grams of copper. Copper also began to replace aluminum in microprocessors.
China is the world's largest customer of copper
Copper is used in construction. In good times, activity in this industry is usually high. So the demand for copper also increases then. China is one of the main recipients of this metal. Even 48% of total copper exports are destined for this country. For example, between 2016 and 2018, both the Hong Kong Hang Seng Index and the price of copper recorded increases.
In 2019, there was a slowdown, but in 2020 the index and the price of copper began to rise again. In 2021, however, the situation changed. While the index has been declining for a long time, the copper price chart shows continued growth.
China is currently experiencing a real estate and construction crisis. Nevertheless, the demand for copper remains high. In addition, China recently announced that it will support the real estate market, which could lead to a greater recovery in demand.
Will the demand for copper grow?
The crisis in Ukraine and increasing geopolitical tensions have shifted attention to oil, gold and palladium. However, the prices of these commodities began to rise already during the pandemic and rising inflation. Even though the price of copper is at an all-time high, it appears that copper investment may still be an interesting alternative in the coming years.
Copper is important, for example, in the production of components for electric cars. It is used in electric motors, batteries, cables and charging stations. Metal also plays an important role in obtaining the so-called green energy from wind or solar power plants. And it is precisely the transition to electric cars and renewable energy sources that could favor investment in copper.
Goldman Sachs analysts even refer to copper as the new crude oil. They estimate that the demand for it will increase by as much as 900% by 2030. In a less optimistic scenario, if the energy transition was slower, they predict a 600% increase.
Is there a risk of a long-term decline in copper production?
The supply of copper is limited. The increase in demand could increase the price of this metal. Almost a third of the world's copper production comes from Chile. And it was the copper mines in Chile and Peru that were struggling with the shortage of workers caused by the coronavirus pandemic. This resulted in a reduction in production. Investments were even temporarily suspended. It should be noted that the construction of new mines takes years.
In the years 2009-2020, the consumption of refined copper increased. In 2020, it was almost 25 million tons globally. It was the highest consumption since 2009. In 2021, the world was struggling with consumption exceeding production. It was 24.5 million tons of copper, while 25.33 million tons were used. According to S&P Global, the production deficit is likely to increase to 3.85 million tonnes by 2025.
The supply will not – according to analysts – meet the demand. By 2030, global copper production is expected to decline to 15.9 million tonnes. Therefore, an increase in the price of copper is expected. For example, Goldman Sachs forecasts growth of more than 40% by 2025.
Free investment e-book
14 practical tipshow to become a better investor and avoid a stock market failure.
How to invest in copper?
You can invest in copper in several ways. You can buy it in physical form. It can also be traded via futures, ETFs and stocks in several ways.
Investments in copper through futures
You can invest in copper through NYMEX Copper Futures (HG), for example. Tens of thousands of contracts are traded daily, with 1 contract being 25,000 times the base value. This means that at a copper price of $ 4.80, one futures contract is worth $ 120,000.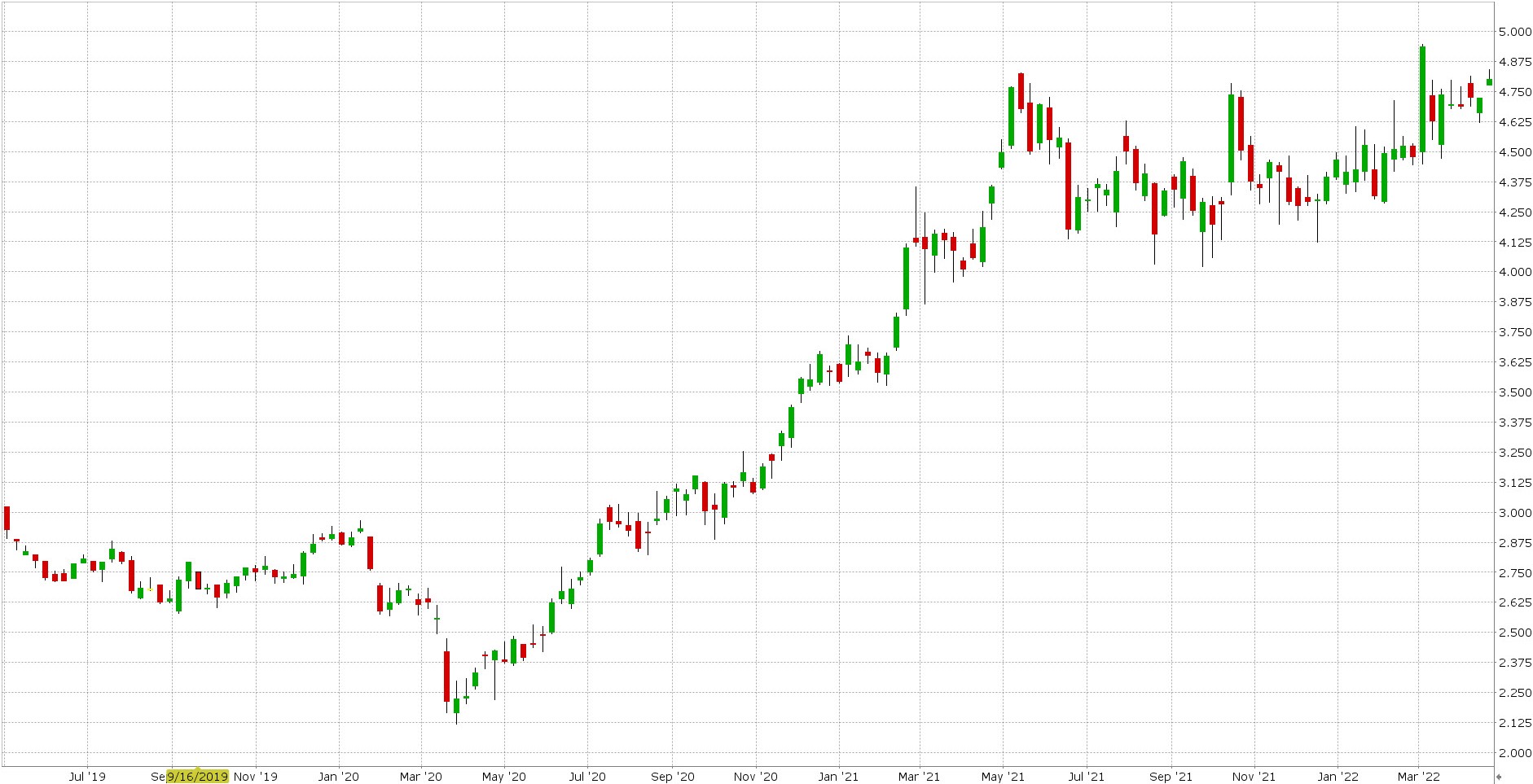 Investments in copper through ETFs
Some ETFs replicate the price of copper. Others invest, for example, in selected shares of copper mining companies. For example, with the Global X Copper Miners ETF (4COP) you can invest in 39 companies active in the copper production sector. It includes companies such as Teck Resourcers, First Quantum, Boliden AB, Freeport Mcmoran, BHP Group and Glencore.
Investments in copper through equities
Investors, of course, also have the option of trading the stocks of copper mining companies or in any way related to the metal. On the other hand, changes in the prices of these shares are closely related to the price of copper. If it rises, mining stocks tend to do well. A fall in the price of copper, in turn, often means a fall in the price of the aforementioned shares. However, it should be borne in mind that these securities can be very volatile.
asc
1
5
db, sd
|
Glencore Shares (GLEN)
Glencore is one of the largest copper producers. In 2020, it extracted 1.26 million tons of this metal. Mainly from mines in Africa, Australia and South America. Glencore also operates in riskier countries such as Congo and Zambia. In these countries, however, it mainly mines cobalt.
The company had been heavily indebted in the past, but rising copper prices improved its performance. The company is currently focused on paying off its debt and is undergoing major restructuring. Net debt in 2021 fell from $ 17.6 billion to $ 6 billion.
In addition to copper, Glencore also focuses on cobalt, nickel, zinc and vanadium. All of these raw materials are important for the transition to sustainable energy sources.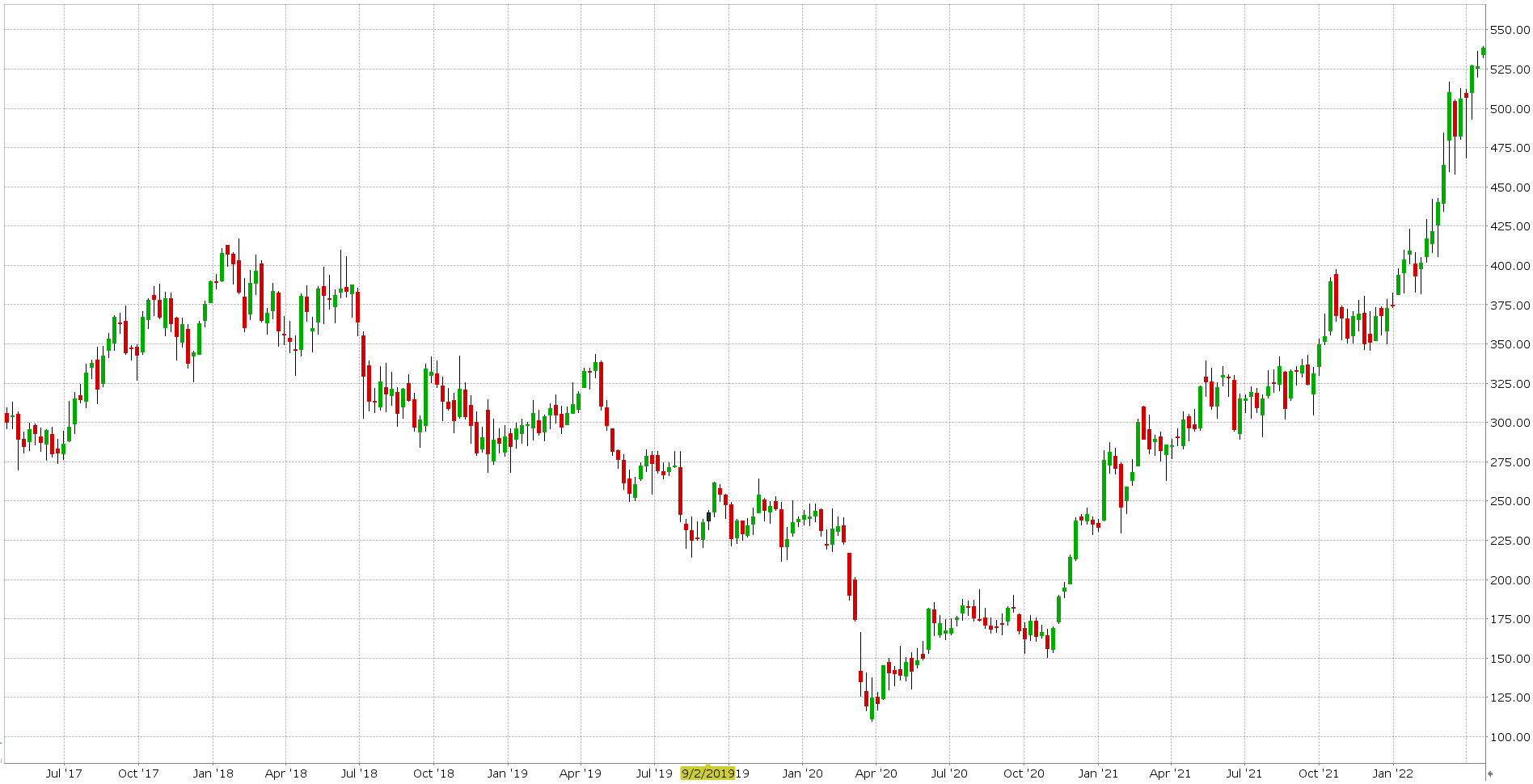 Lundin Mining Shares (LUN)
Lundin Mining is a Canadian company with mines in Portugal, Spain, Finland and Sweden. Lundin has a strong exposure to copper and could benefit if the price rises. The LUN share price has risen sharply in the past year. In 2021, the company saw its revenue grow by more than 60% to $ 3.32 billion. The company also mines gold, zinc and nickel.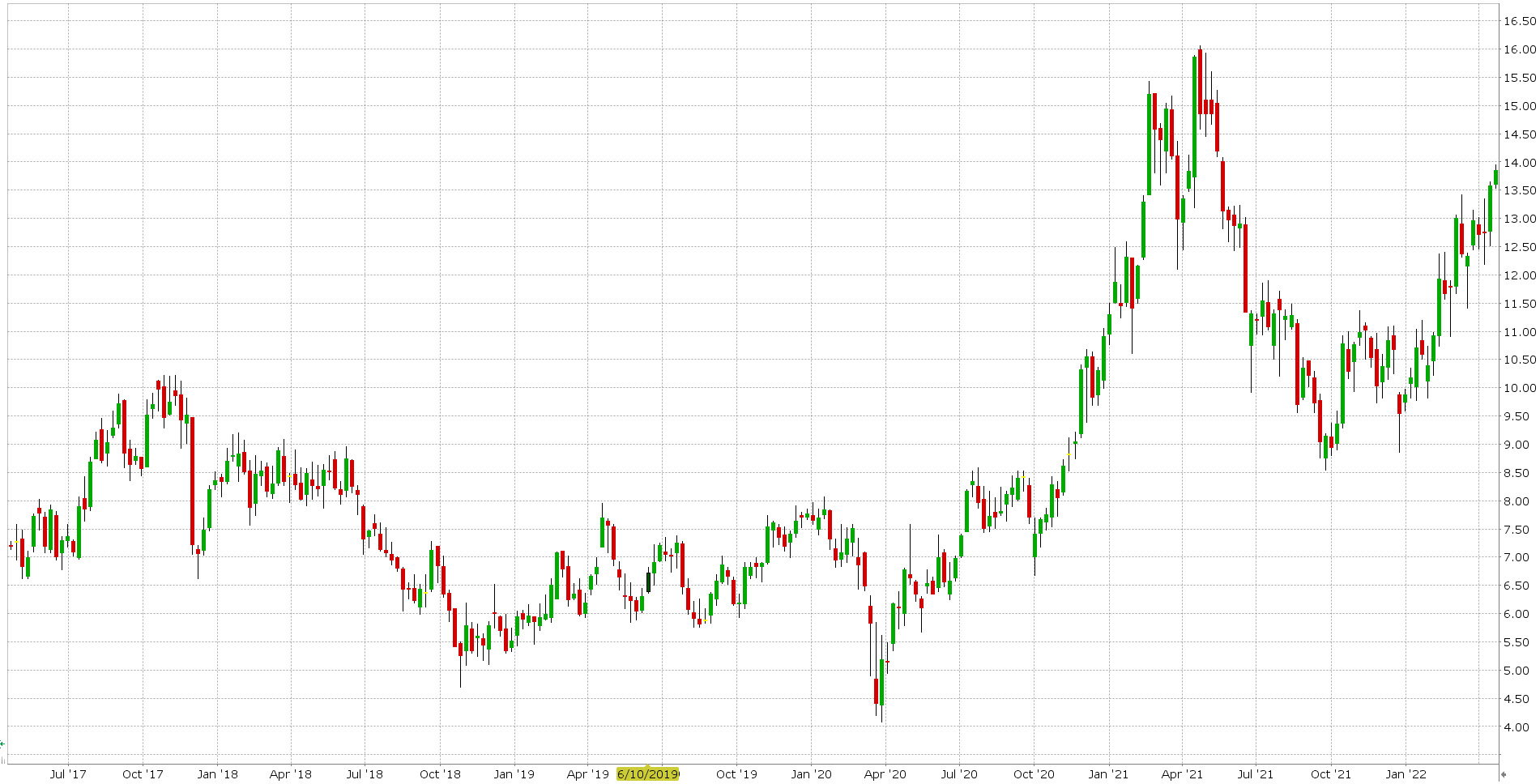 Southern Copper Shares (SCCO)
The American Mining Company is one of the top five copper miners in the world. The reddish metal accounts for about 84% of the company's sales. The company also mines silver, zinc, molybdenum, lead and coal. The southern copper mines are mainly located in Peru and Mexico. Southern Copper is 88.9% owned by Grupo Mexico. The remaining 11.1% of shares are traded on the NYSE (New York Stock Exchange).
The company is able to produce copper at a much lower cost than the competition. In recent years, Southern Copper has also been steadily increasing copper production, investing in both the expansion of existing mines and the development of new projects. For example, high expectations are attached to the Peruvian Tia Maria project, in which approximately $ 1.4 billion has been invested. At least 120,000 tonnes of copper per year are to be mined over a 20-year period. The company's management expects to increase annual production from the current 951,000 tons to 1.9 million tons by 2028.
In fiscal 2021, sales increased 38% to $ 10.8 billion. Profit more than doubled ($ 3.38 billion). For the current fiscal year 2022, analysts expect slightly weaker revenues of $ 10.8 billion. In 2021, net debt was $ 2.75 billion and free cash flow was $ 3.4 billion.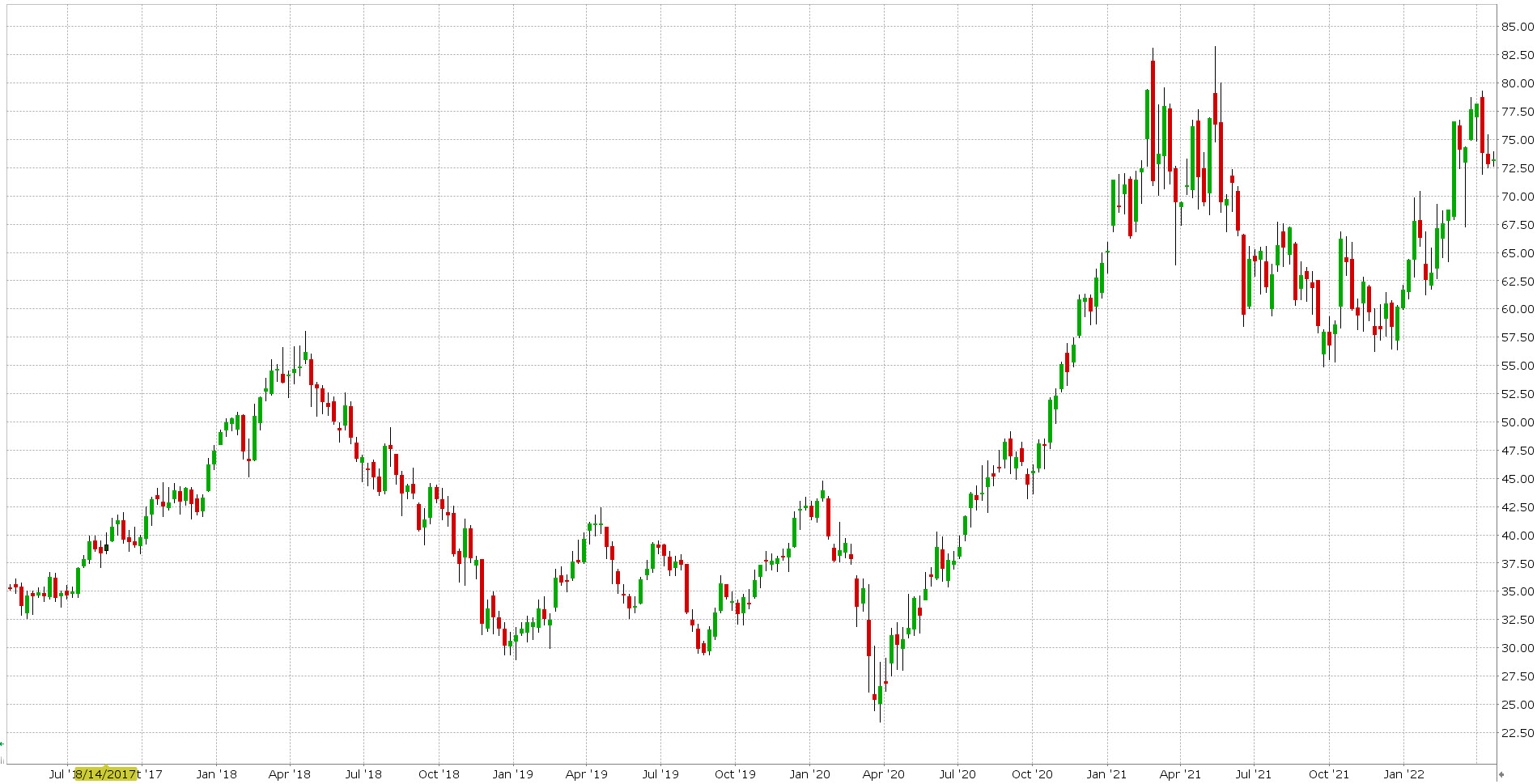 Invest in copper with LYNX
Whether you are a day trader or a long-term trader, you can take advantage of the excellent offer of LYNX as we enable you to trade a wide variety of financial instruments such as stocks, ETFs, futures, options, CFDs and forex at favorable commissions. In addition, we regularly publish training webinars. At LYNX, you can trade in real time through professional trading platforms.
In addition, as part of the Investment Portal, we regularly inform you about current investment opportunities on the market and news from the investment world. In case of any doubts, you can use our customer support for free.
Sources used in the article:
BLEKEMOLEN, J. Beleggen in koper met aandelen, ETF's en futures. LYNX [online]. Posted on March 25, 2022 [cit. 6. 05. 2022]. Available at: https://www.lynx.nl/beurs/beurs-koersen/aandelen/beste-aandelen/beleggen-in-koper-aandelen-futures-etf/
Professional trading platform
Trade securities such as stocks, ETFs, options, futures, certificates, warrants and more. Invest in 135 markets in 33 countries through modern and professional trading platforms. Find out more here: Trader Workstation
Mkt Cap
Vol
Daily maximum
Daily minimum
Displaying the — greyhound
Displaying today's chart