There is no stopping technological progress. The virtual world where people can meet is becoming more and more real. This is also noticed by many companies that see great opportunities in such a global combination. Investors are also increasingly interested in metaverse stocks.
In this article you will learn what a metaverse is. We will also share with you propositions of metaverse actions that have a chance to benefit from the development of virtual reality.
Surely many of you have come across this term in recent times in connection with Facebook, which has changed its name to Meta Platforms. However, interest in the virtual world of metaverse is also growing among other companies trying to take advantage of this opportunity to attract investors.
In 2020, metaverse was mentioned in quarterly results only 7 times, while in 2021 it was already more than 100 times. A huge jump took place especially in the fourth quarter of 2021, when the increase was 135%.
Metaverse becomes a concept that begins to resonate with investors. Virtual reality (VR), augmented reality (AR) and artificial intelligence (AI) also keep pace, which are also mentioned as often. And of course also about programs, games and related accessories.
What is metaverse? There are many interpretations of this term. Basically, it is a virtual world in which there is interaction between users. Usually using a 3D interface, available, for example, thanks to VR headsets. Metaverse offers a new space, and at the same time a way of interpersonal communication.
Gaming companies were already working on a virtual space in the 1990s that users could modify to some extent. For example, Google has experimented with the virtual world in the guise of Google Lively. However, in 2015, the company abandoned the Google Glass product because interest in it turned out to be low.
In recent decades, technology companies have repeatedly invested in VR and AR, but often without success. This was partly due to too few interesting applications for users, but also insufficient hardware. Around 2012, the Oculus Rift VR glasses started to attract attention. It was one of the first headsets for computer games. Two years later, the company was bought by Facebook for $ 2 billion.
At this point, the interest of game producers also arose. Sony announced Project Morpheus, VR headset for Playstation 4. Despite the rapid development, interest in these technologies did not keep up with expectations. This could be partly due to the low quality of the headsets and goggles offered. They require fast processors and long battery life.
The market seems to be maturing from 2019. Oculus Quest virtual reality glasses have been spotted. This Facebook VR kit actually sold out in many places, generating huge profits in the first two weeks of sales.
At the end of 2020, Facebook presented Oculus Quest 2. The successor to the first VR headset received mainly positive reactions and by the end of 2021 the company had sold over 10 million units. To this day, users have therefore spent over a billion dollars on these products and accessories.
Meta (Facebook) is also currently developing a new, top virtual reality headset, which should appear at the end of 2022. The Nazare project also continues. These are glasses that are also intended to provide users with access to augmented reality. Microsoft is currently selling a headset called HoloLens. Apple is also planning virtual reality glasses.
In late October, Facebook announced that it would change its name to Meta Platforms. CEO Mark Zuckerberg talked about the company's ambitious plans related to social media and the virtual world in an extensive presentation. Meta spent over $ 10 billion in hardware and software for VR in 2021.
These investments were made to the detriment of profitability and clearly resulted in a decline in Meta shares after the announcement of the results. Investors are probably somewhat wary of the metaverse for the time being and the advantages of this virtual world do not appeal to them enough. The project itself has a long way to go. The management of the Meta company said that the full implementation of the vision of the virtual world may take up to 15 years.
Walt Disney is getting ready to enter the virtual world
Disney recently announced it has appointed a new director with responsibility for the company's strategy in the metaverse community. It's about Mike White, who previously dealt with Yahoo and LinkedIn. However, according to reports, Disney focuses on providing a virtual reality experience without VR goggles. For now, the company is keeping a secret how it wants to connect our world with the virtual world. Therefore, the budget was also not made public.
"Today we have the opportunity to connect these two worlds and create a completely new paradigm for the reception of our stories and the involvement of viewers in them."

Bob Chapek, Disney CEO
Recently, several tech giants made acquisitions in the gaming industry. The most famous example is, of course, the acquisition of Activision Blizzard by Microsoft. These are clearly the reactions of companies to the metaverse and the enormous opportunities that this virtual world brings for computer games. In the future, we can therefore expect even more interactive games using the virtual world environment.
Even now, by playing computer games, you can even earn money (Play-To-Earn), not only thanks to cryptocurrencies. In games based on blockchain technology, players gain the opportunity to earn virtual coins. However, the virtual world does not have to be only about computer games. Mark Zuckerberg and Bill Gates envision a future where people go about their daily activities in the virtual world. Both shopping or playing sports, as well as meeting other people, etc. The entrance to such a world will certainly be, first of all, a headset or special glasses.
The growing popularity of the virtual world is also accompanied by the appearance of ETF Metaverse funds. They allow investors to trade shares of companies operating in the VR and AR industries. Interestingly, the ETF Metaverse is appearing in large numbers mainly in South Korea. The offer of US ETFs is still limited to European residents. However, should ETF Metaverse appear in the near future that can also be traded in Europe, we would be happy to announce it.
Grayscale Research's announcement predicts that the virtual world could become a $ 1 trillion market in the near future. Below are five stocks of companies that are currently investing heavily in the metaverse.
Facebook has discovered its intentions already changing its name to Meta Platforms. In 2021, Meta was investing over $ 24.6 billion in research and development. It is not known exactly how much of this was allocated to the activities of the metaverse. Currently, Meta already offers various VR glasses in the Reality Labs department, where sales are growing rapidly. In 2019, it was $ 501 million, and in 2020 – over $ 1.13 billion. Last year, sales doubled to $ 2.27 billion. High costs and expenses ($ 12.46 billion) generated an operating loss of $ 10.19 billion.
2. Roblox (RBLX) actions
The company was founded in 2006. Following an IPO in early 2021, the price rose from around $ 70 to a record $ 141 in November 2021. The American developer of computer games offers users the tools to design their own games and the ability to share them with others. Roblox sells virtual coins to players that are used to purchase digital items in the game. The company has also entered into agreements with several major brands such as NFL and Nike in recent months.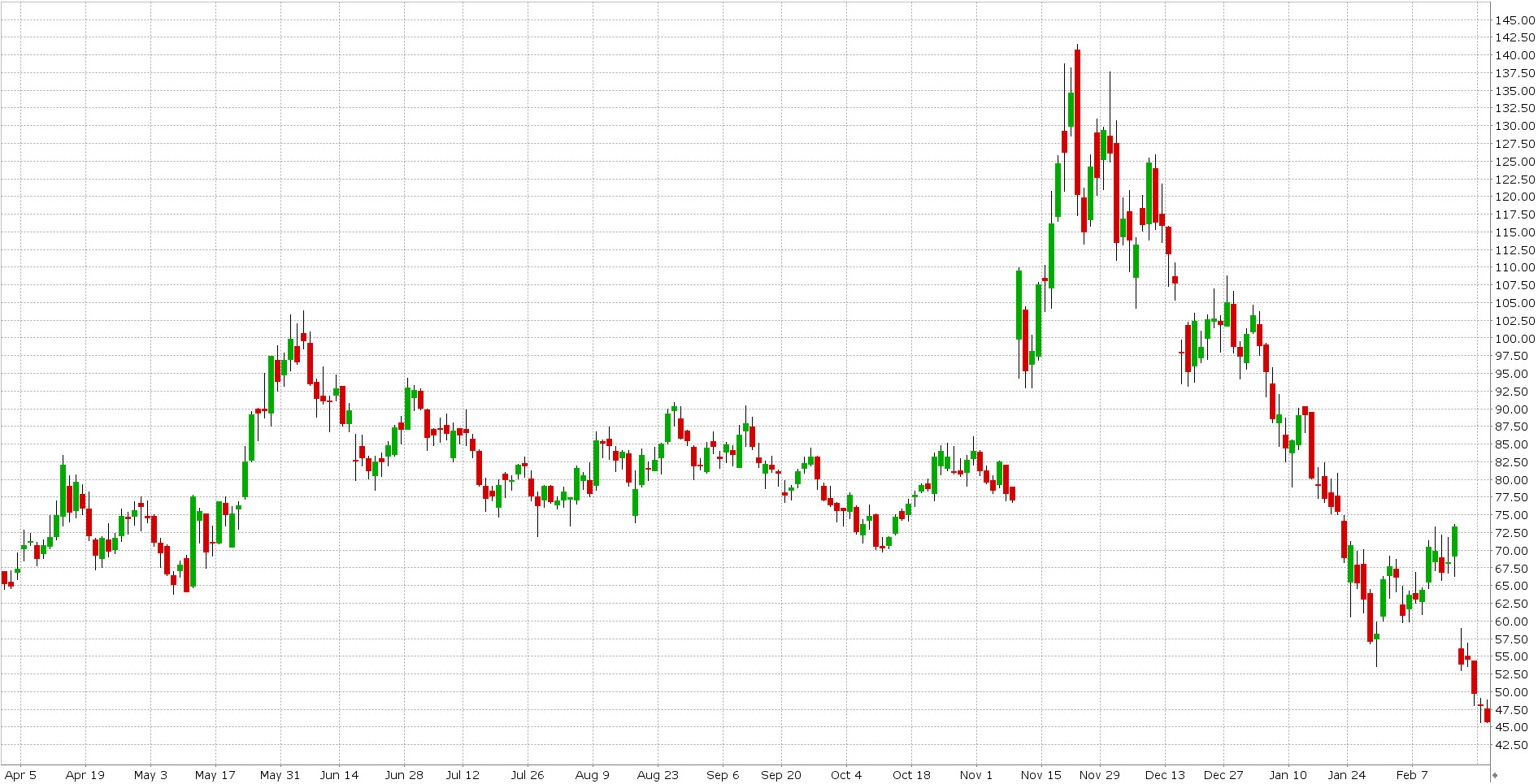 After the release of the latest quarterly results, the share price fell by more than 26%. The company had a turnover of $ 770 million in the last quarter of 2021. This is a bit less than analysts expected. The company's turnover growth has been double-digit in recent years. However, Roblox j is still not profitable. So these are metaverse rather for investors who are not afraid of greater risk.
3. NVIDIA Stock (NVDA)
The Metaverse is also an opportunity for companies producing processors and graphics cards. The company's founder and CEO, Jensen Huang, recently said the metaverse will be "much larger than the physical world." NVIDIA has its own Omniverse project to help create and connect individual virtual worlds. This allows designers, researchers and engineers to collaborate on projects or experiment in a shared virtual environment. NVIDIA specifically focuses on 3D working methods when creating virtual worlds. As you know, NVIDIA is growing very fast, and analysts expect solid figures in the coming years as well.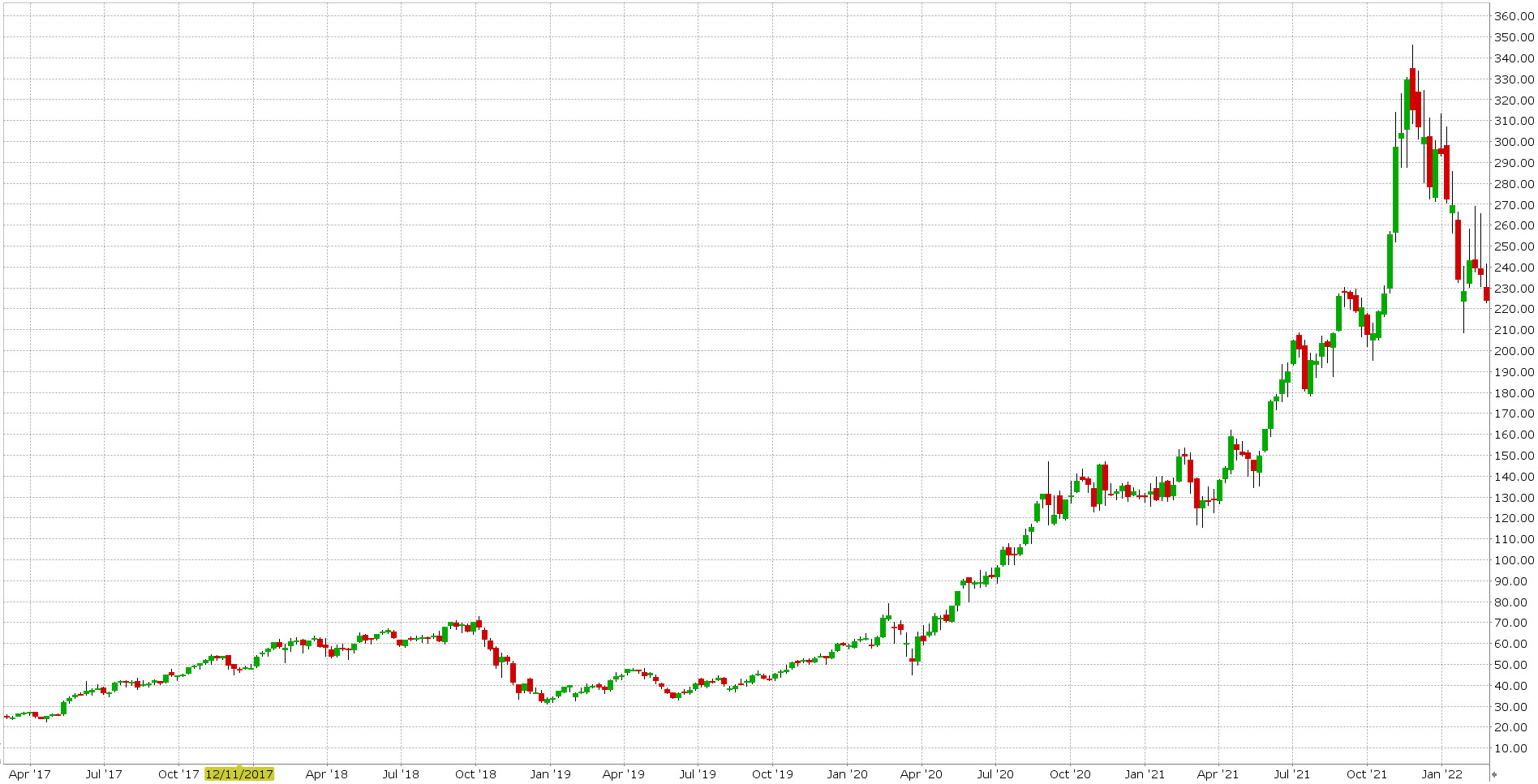 4. Microsoft Stock (MSFT)
Microsoft has ambitious plans for the metaverse. The acquisition of Activision Blizzard is to be the next step towards the world of virtual reality. However, it is not so much about some breakthrough technology that could facilitate access to the virtual world, but rather about acquiring popular game titles and expanding know-how about the gaming industry.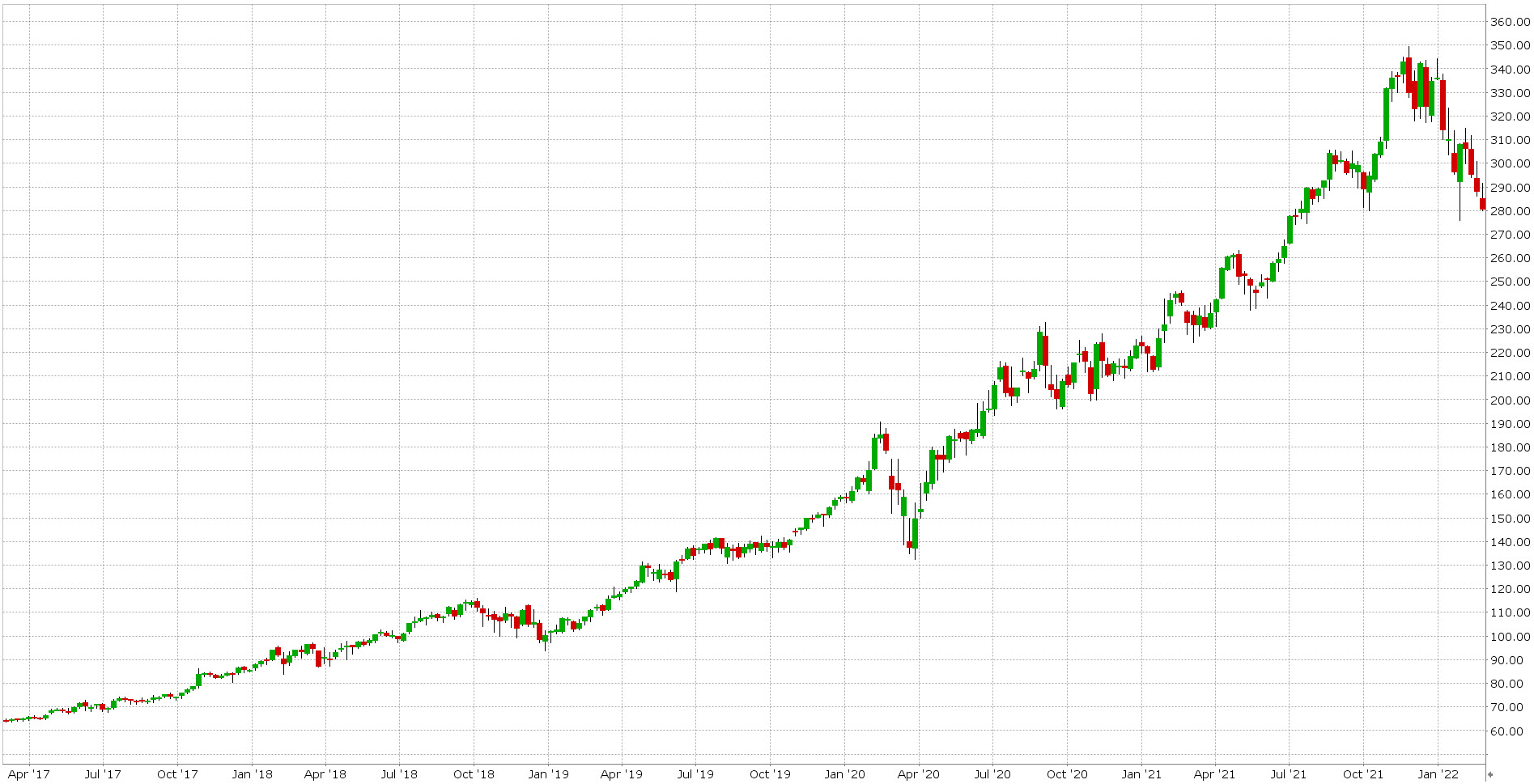 Microsoft announced at the end of 2021 that it was working on virtual interactions between Teams users. In 2017, he also bought AltspaceVR. The acquired technology was used on the Microsoft Mesh platform. The company hopes that this platform will enable the unification of holographic virtual collaboration on a variety of devices. Regardless of whether it will be headsets for VR, AR, notebooks or smartphones. Currently, Microsoft also sells HoloLens 2.
ALSO READ: Netflix shares fell 35%. The company lost 200,000 users?
5. Stocks of Snap Inc. (SNAP)
Last year there were reports of Niantic and Snapchat working together on the development of the metaverse. Niantic is the creator of the game Pokemon Go, which a few years ago gained popularity among millions of players. Therefore, these companies see the potential mainly in combining the real world with virtual experiences, i.e. in augmented reality. The company invests millions in the development of new AR tools. Interestingly, equities in early February saw an increase of 58% after the company closed for the first time with a profit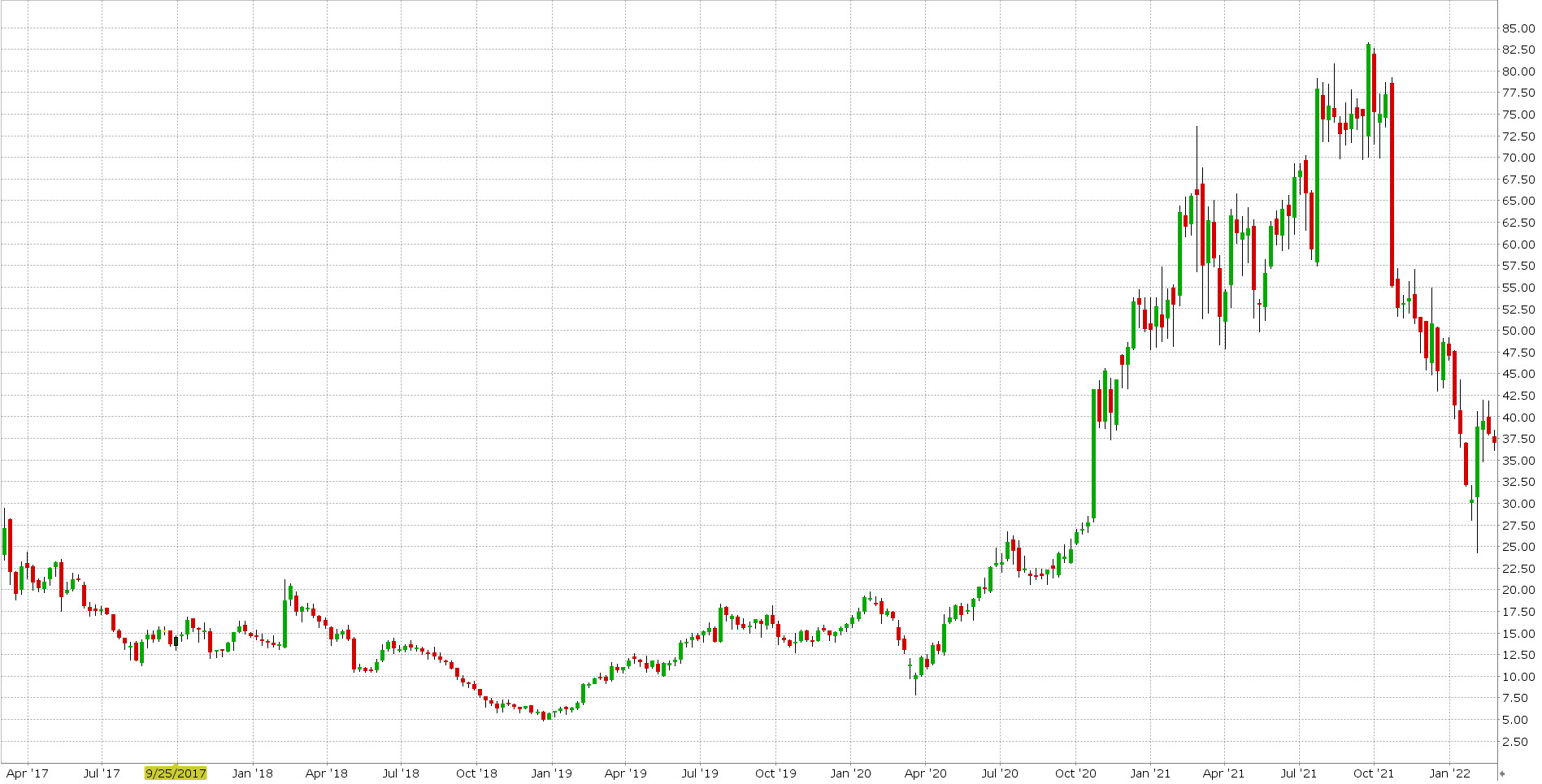 Whether you are a day trader or a long-term trader, you can take advantage of the excellent offer of LYNX as we enable you to trade a wide variety of financial instruments such as stocks, ETFs, futures, options, CFDs and forex at favorable commissions. In addition, we regularly publish training webinars. At LYNX, you can trade in real time through professional trading platforms.
In addition, as part of the Investment Portal, we regularly inform you about current investment opportunities on the market and news from the investment world. In case of any doubts, you can use our customer support for free.
Sources used in the article:
BLEKEMOLEN, J. De beste metaverse aandelen – Beleggen in de metaverse. LYNX [online]. Published on 2/18/2022 [cit. 24.2.2022]. Available at: https://www.lynx.nl/beurs/beurs-koersen/aandelen/beste-aandelen/beleggen-beste-metaverse-aandelen/
Do you want to trade stocks easily, quickly and professionally?
Invest in stocks through LYNX. As a reputable online broker, we enable you to trade stocks directly on global exchanges. More information about the LYNX Online Broker can be found here: Stock Broker
Mkt Cap
Vol
Daily maximum
Daily minimum
Displaying the — greyhound
Displaying today's chart