Sports stocks are particularly interesting because of their long-term growth. In addition, during international football tournaments, the interest in products such as football or football shirts increases significantly and companies such as Adidas or Nike generate billions of dollars in revenues from the sale of such products. With the 22nd World Cup in Qatar this fall, it's a good time to look at the action of sports companies.
Sports industry: long-term, steady growth
Demand for brand-name sportswear and leisurewear continues to grow and the sports industry has shown impressive steady growth in recent decades. Sports and fitness are definitely in fashion. Young people are especially fond of sportswear, but it finds its supporters in all age groups. Nike, adidas, Puma and other manufacturers are taking advantage of this long-term trend. The sale of sports equipment such as balls and tennis rackets has been relegated to the background and accounts for a relatively small share of the turnover.
Under Armor and Luluemon Athletica (a manufacturer of yoga clothing) show us that even young brands can become very popular within a few years. The Swiss running shoe manufacturer On or the Asian company Anta Sports also established themselves on a global level in a relatively short time.
We have compiled a list of ten sports actions, three of which will be presented in more detail.
630731d2807e01_04537836
stockList
asc
1
5
sd, hd
|
1
0
10
1
pl
//cdn.datatables.net/plug-ins/1.10.20/i18n/Polish.json
The 3 most popular sports actions
Learn in detail about 3 stocks of companies that have a strong market position and can be an interesting investment opportunity.
Company adidas: Traditional German manufacturer
Adidas AG (ADS) is the second largest sports goods company in the world after Nike. It was founded in 1949 and has been listed on the stock exchange since 1998 and is now part of the DAX. The company is based in Herzogenaurach near Nuremberg. It offers a wide range of products, including sports shoes, clothing and accessories. Adidas manufactures sports and recreational equipment for both professional athletes and amateurs. It is also a sponsor of players and many famous sports clubs such as FC Bayern, Manchester United, Real Madrid and Juventus Turin.
Last year, adidas sales increased by + 7% from EUR 19.8 billion to EUR 21.2 billion compared to the previous year, and earnings per share increased by + 393% from EUR 2.21 to EUR 10.90. However, the company recently issued a warning regarding sales and profits in 2022. Instead of initially expected sales growth of + 11% to + 13%, adidas is expecting rather single-digit gains. The expected profit of EUR 1.3 billion will also be significantly lower than forecasted. The dividend for 2021 was set at EUR 3.30. It is expected to remain unchanged or increase by a few cents over the coming year.
The weaker development in China had a particularly negative impact. As a result of repeated restrictions imposed by COVID-19, the sports industry there is recovering much more slowly than expected.
Adidas shares peaked at over EUR 336 in September 2021. They have since declined by more than half in some periods. The current share price should fully reflect the poor outlook. Now it's up to the company to deliver positive news and figures again. The above-mentioned World Championships in Qatar may be an opportunity to catch the wind in the sails again.
Nike: The largest manufacturer of sports equipment in the world
Nike (NKE) is adidas' eternal rival. The company was originally founded in 1964 as Blue Ribbon Sports. Designs, manufactures and sells sports shoes, apparel, equipment, leisure and lifestyle products and accessories. The company is based in Beaverton. Nike is included in the Dow Jones Index. Like adidas, this American brand sponsors many sports stars.
Over the past three years, Nike has managed to increase sales by + 7% and profits by an average of + 18%. Most recently, in fiscal 2021/22, the company had revenues of $ 46.8 billion (+ 5%) and a profit of $ 3.75 per share (+ 5%). For the current fiscal year ending May 2023, analysts expect revenues of approximately $ 50.5 billion (+ 8%) and a profit of $ 3.76 per share. The company's forecasts for the next 2023/24 year assume revenues of USD 55.5 billion and profit of USD 4.57 per share.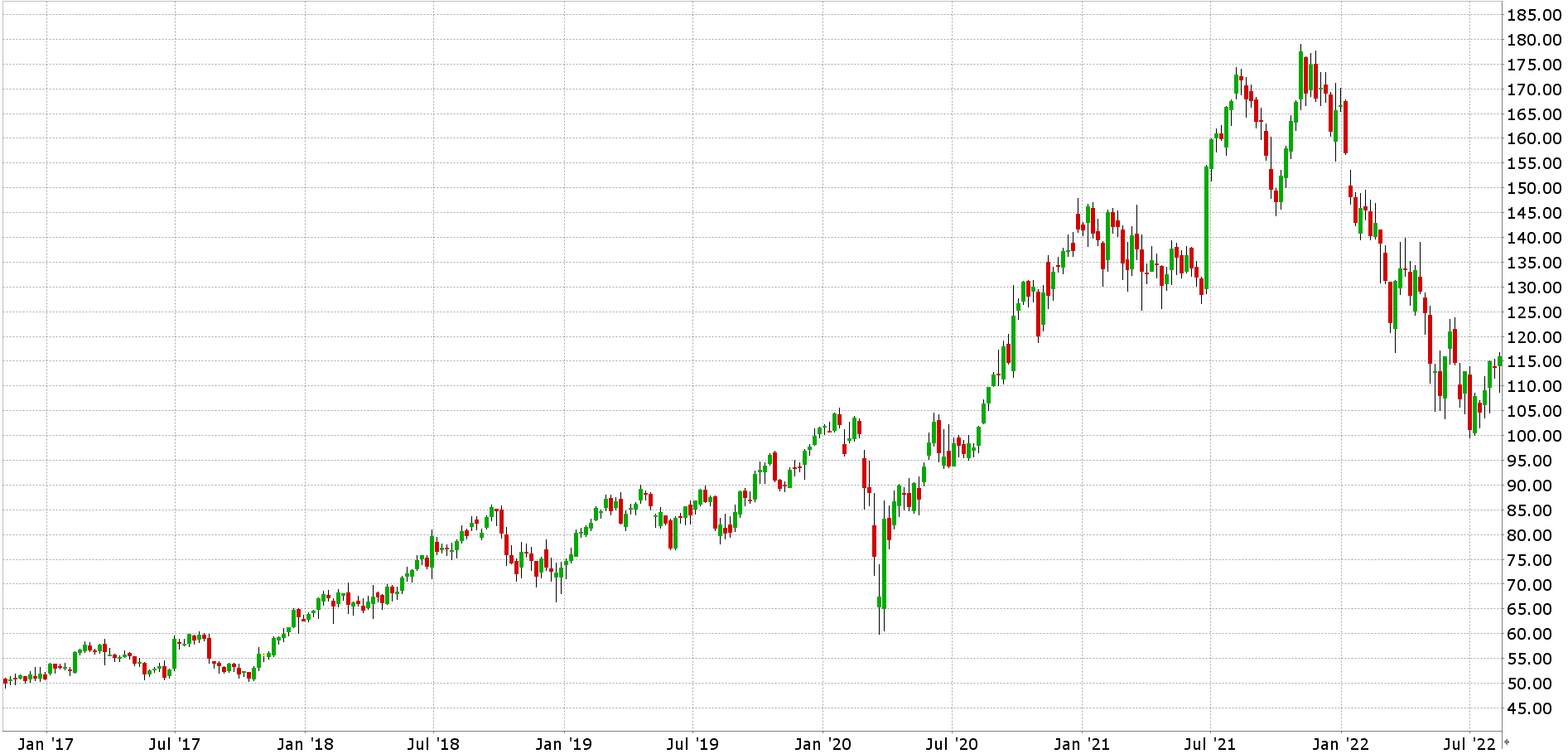 At the end of 2021, Nike stock was high at $ 158. They have depreciated considerably since then, but not as much as competitive Adidas.
Puma: Adidas' most serious competition
Puma (PUM) was founded in 1948 in Herzogenaurach by Rudolf Dassler, who is the brother of Adolf Dassler, the founder of adidas. The fourth largest manufacturer of sports equipment in the world has been listed on the stock exchange since autumn 2021. As a versatile sports brand, Puma also offers a wide range of sportswear, footwear, accessories and gear. The company sponsors famous football clubs such as Manchester City, AC Milan and Feyenoord Rotterdam.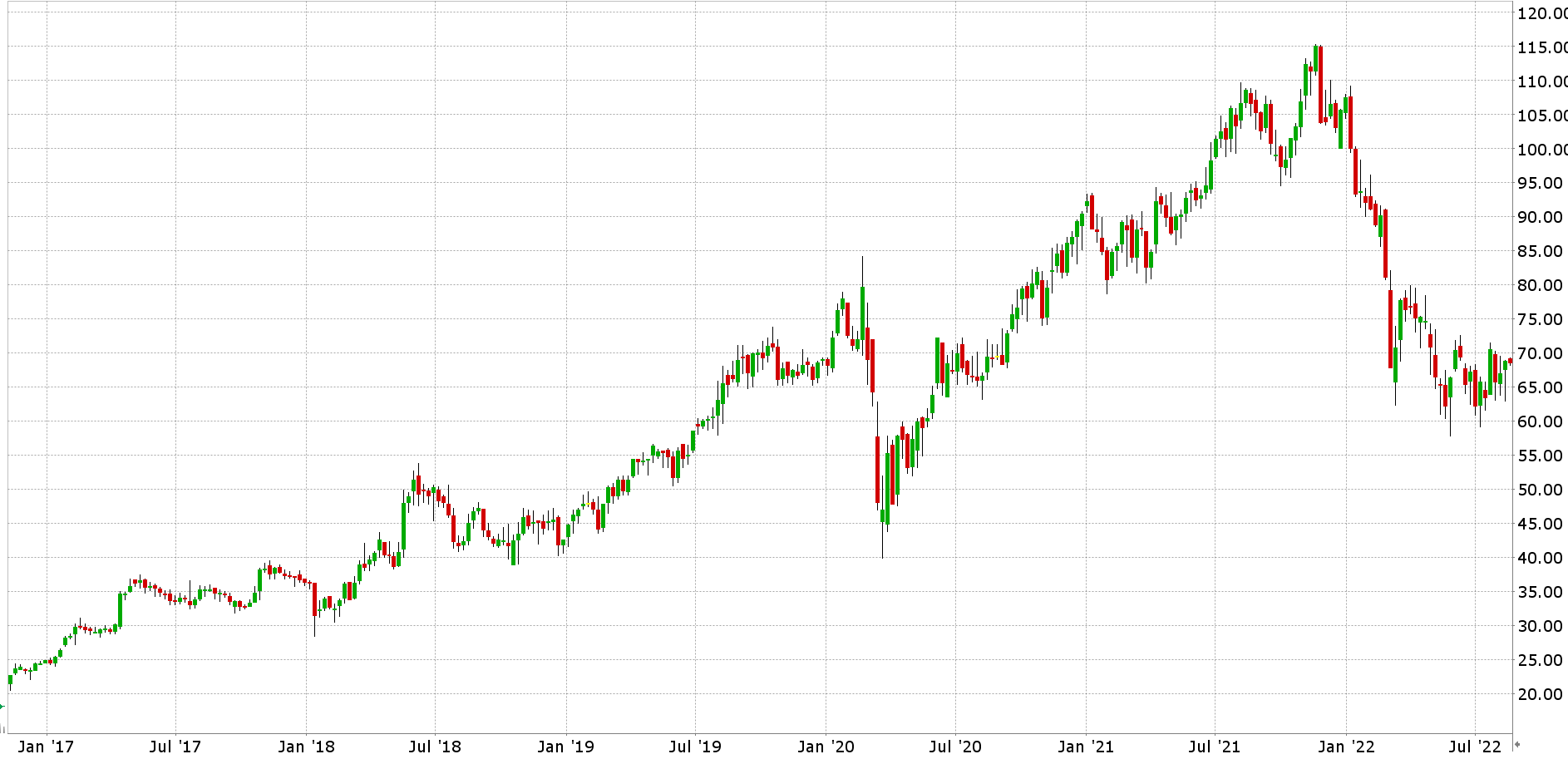 Last year, Puma increased its turnover by 31% from EUR 5.2 billion to EUR 6.8 billion in 2021. At the same time, earnings per share quadrupled from EUR 0.53 to EUR 2.07. The market consensus for the current fiscal year 2022 is sales of EUR 8.1 billion (+ 19%) and a profit of EUR 2.66 per share (+ 29%). In 2023, analysts expect sales of EUR 8.9 billion (+ 10%) and a profit of EUR 3.30 per share (+ 24%).
Like Adidas and Nike, Puma shares lost significantly from their € 115 all-time high at the end of 2021.
Trade stocks of sports companies through LYNX
Whether you are a day trader or a long-term trader, you can take advantage of LYNX's excellent offer as we enable you to trade a wide variety of financial instruments such as stocks, ETFs, futures, options, CFDs and forex trading at great commissions. In addition, we regularly publish training webinars. At LYNX, you can trade in real time through professional trading platforms.
In addition, as part of the Investment Portal, we regularly inform you about current investment opportunities on the market and news from the investment world. In case of any doubts, you can use our customer support for free.
Sources used in the article:
PROBST, W. Die besten Sportartikel-Aktien 2022. LYNX [online]. Published on 3/8/2022 [cit. 9. 8. 2022]. The article is here.
Do you want to trade stocks easily, quickly and professionally?
Invest in stocks through LYNX. As a reputable online broker, we enable you to trade stocks directly on global exchanges. More information about the LYNX Online Broker can be found here: Stock Broker
Mkt Cap
Vol
Daily Maximum
Daily minimum
Displaying the — greyhound
Displaying today's chart