Semiconductor stocks experienced a spike in 2021. Semiconductors, microprocessors and chips are now part of virtually all modern technology. Examples include artificial intelligence (AI), 5G, big data and cloud computing, electromobility, autonomous driving, internet of things, and industry 4.0. Semiconductor stocks are considered highly cyclical and their growth has now slowed. Is falling prices a good time to enter the market? In this article, we look at the popular semiconductor actions for 2022.
The main reason behind the rise in semiconductor prices is the coronavirus pandemic. At the beginning, the demand for cars almost disappeared, while the interest in computers, tablets and smartphones increased significantly. Industry manufacturers have adapted to the new conditions, but as demand for cars increased again, this caused both a semiconductor shortage and overall supply chain problems. This affected not only the automotive industry but several other sectors as well, as nowadays hardly any device can function without semiconductors.
Nearly 70% of semiconductors are manufactured in Asia
The global semiconductor market is now worth nearly half a trillion USD. There are a number of large and small producers on the market, with American and Asian companies dominating. About 70% of semiconductors are produced in Asia. The largest manufacturer of integrated circuits in the world is the Korean company Samsung Group, followed by the American company Intel. Below is a list of ten semiconductor stocks. We will discuss three of them in more detail.
The table below shows the results of selected companies in the semiconductor and chip industries.
631b107cb9e056_51583576
stockList
asc
1
5
sd, hd
|
1
0
10
0
pl
//cdn.datatables.net/plug-ins/1.10.20/i18n/Polish.json
The 3 most popular stocks in the semiconductor and chip industry
See in detail the 3 stocks of companies that have a strong position in the semiconductor and chip market.
Analog Devices Stock: Earnings Expected to Increase 43%
Over the past three years, the company has increased sales by an average of + 14%, while increasing profits by + 12% annually. For 2022, analysts forecast a 61% increase in revenues to $ 11.8 billion and a 43% increase in profits. The acquisition of Maxim Integrated Products in 2021 triggered strong revenue growth. Next year, the company is expected to earn $ 9.79 per share (+ 6%) on revenues of $ 12.3 billion (+ 4%). Analog Devices pays its shareholders a quarterly dividend of $ 0.76. On top of that, there are share buyback programs, which have recently reached a volume of $ 10 billion.
Nvidia equities: sales increased by 48% on average in the last 3 years
Nvidia (NVDA) is a world leader in graphics processors and data centers. Designs chips and then orders their production. Therefore, Nvidia does not have its own production facilities. As a result, it focuses solely on research, development and design of new products. The biggest revenue generators are games and data centers, which account for about four-fifths of revenue. Other important customers include the automotive, artificial intelligence and automation sectors.
Nvidia has grown impressively over the past few years. Over the last three years, sales grew by an average of +48 percent. per year, and profits by more than 66 percent. In 2022, analysts expect growth to slow down. Revenues are expected to rise 24% to $ 33.3 billion, while profits are expected to increase by 20%. In the coming year 2023, sales are expected to be $ 38.4 billion (+ 15%) and earnings per share of $ 6.27 (+ 17%). S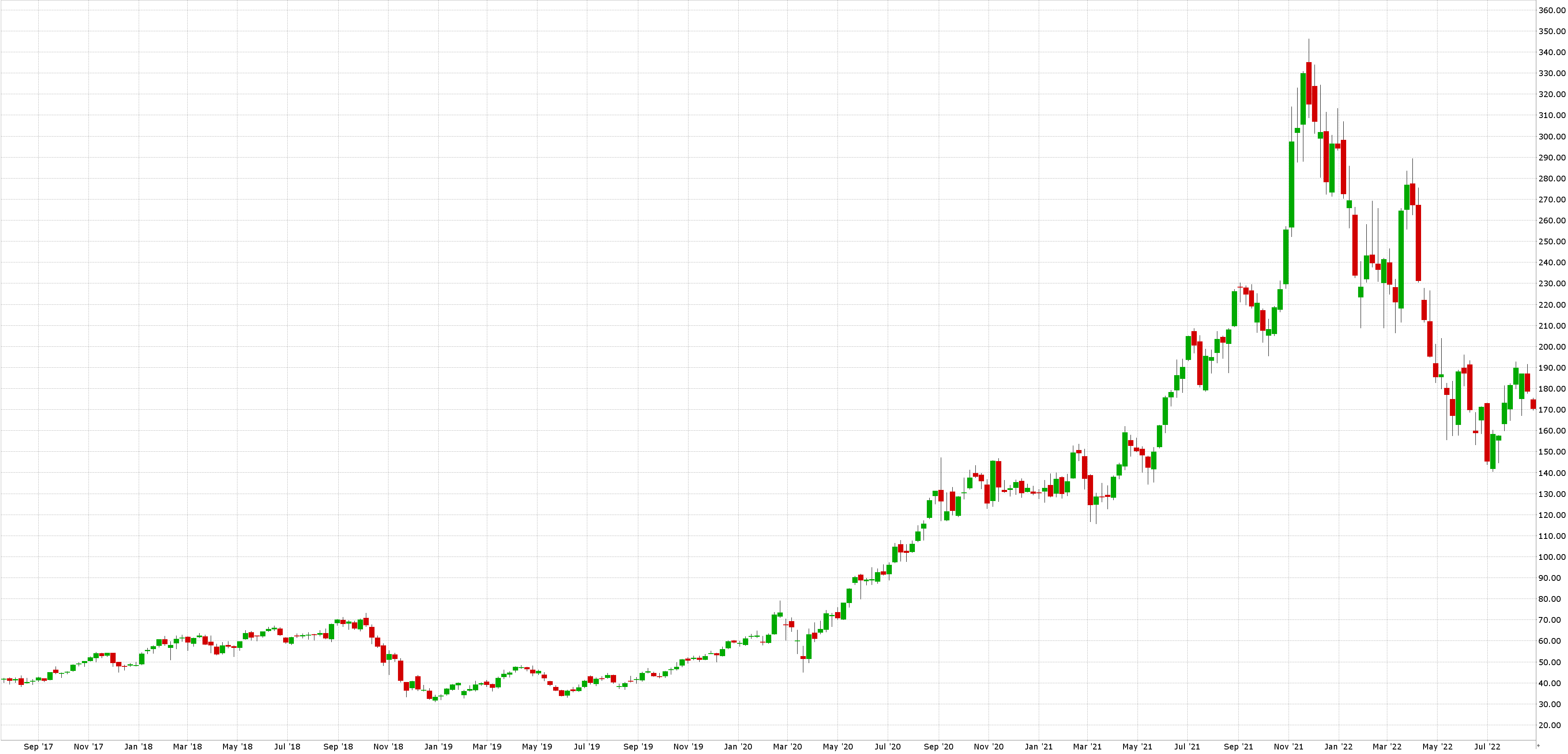 Qualcomm Stock: The company has 43% of the processor market
The company from San Diego, California is one of the top five manufacturers of integrated circuits in the world. It is a world leader in wireless data transmission. Founded in 1991, the company sells semiconductors, software and semiconductor services. According to Strategy Analytics, Qualcomm controls approximately 43% of the processor market. This is the position of a virtual monopoly that has repeatedly got the company into trouble with antitrust authorities. Qualcomm products are essential for transmission standards such as 3G, 4G and 5G. The company's chips are also found in iPhones that support 5G.
In fiscal 2020/21, Qualcomm posted a profit of $ 8.54 per share (+ 104%) on revenues of $ 33.5 billion (+ 55%). In the three-year period, the increase in revenues averaged + 20% per annum, while the annual increase in profits in the same period was + 57%. Impressive growth is also expected this year 2021/22. Market experts expect a profit of $ 12.50 per share (+ 46%) on revenues of $ 44.6 billion (+ 33%).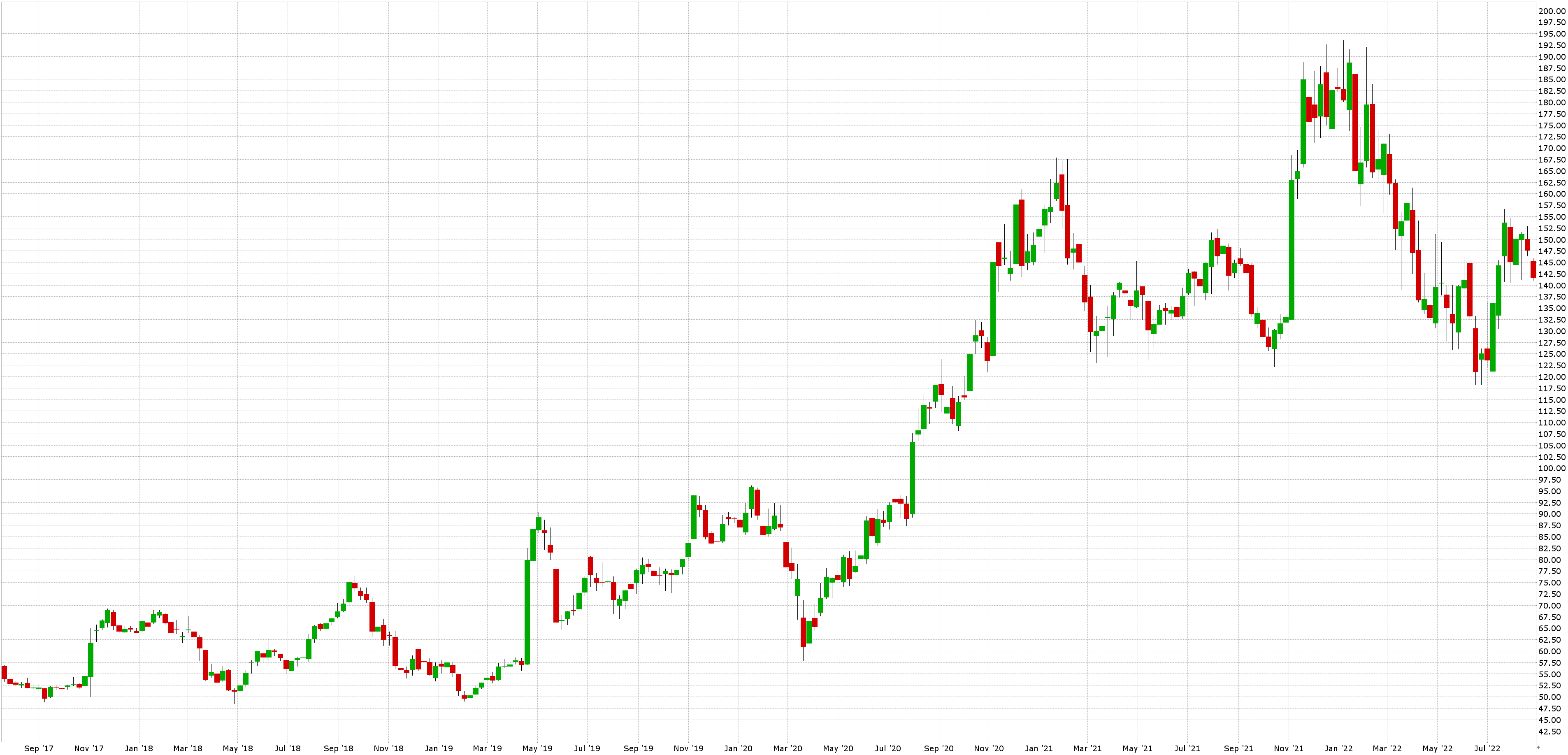 Trade stocks with LYNX
Whether you are a day trader or a long-term investor, you can take advantage of the excellent offer of LYNX as we enable you to trade a wide variety of financial instruments such as stocks, ETFs, futures, options, CFDs and forex at favorable commissions. In addition, we regularly publish training webinars. At LYNX, you can trade in real time through professional trading platforms.
In addition, as part of the Investment Portal, we regularly inform you about current investment opportunities on the market and news from the investment world. In case of any doubts, you can use our customer support for free.
Sources used in the article:
PROBST, W. Die besten Chip- und Halbleiter-Aktien 2022. LYNX [online]. Published 26. 7.2022 [cit. 23. 8. 2022]. The article is here.
Do you want to trade stocks easily, quickly and professionally?
Invest in stocks through LYNX. As a reputable online broker, we enable you to trade stocks directly on global exchanges. More information about the LYNX Online Broker can be found here: Stock Broker
Mkt Cap
Vol
Daily Maximum
Daily minimum
Displaying the — greyhound
Displaying today's chart